A demonstration of ancient crafts, a handicraft workshop, an old-fashioned playground and the cake of the Great Church – with all this, the Great Church Congregation awaits those interested on September 4 (Saturday) in the Memorial Garden.
The "More than 200" series of programs of the Reformed Parish of Debrecen-Nagytemplom aims to offer free cultural programs to the inhabitants of the city and members of the congregation, which emphasize respect for the Reformed and folk traditions, and the main goal is
to establish a closer relationship between the Great Church and the inhabitants of the city.
The organizers were informed about the elements of the program series in a press conference at the beginning of August, and on the first weekend of the autumn, "More than 200" will start with a family mini-festival.
On September 4, from 10 am, in the Memorial Garden behind the Great Church, in the creative workshop of István Tamus, the participants can get acquainted with various professional techniques, and in addition to the joy of co-creation, an impromptu exhibition of the completed works will open on-site. After the guests are entertained, various ancient crafts will be introduced from 2 pm: we can make and consume cheeses, learn the tools of beekeeping in the Honeycomb, and learn the ins and outs of embroidery and pottery with the guidance of the Hajdúsámson Folk Dressing Club and Terdiki.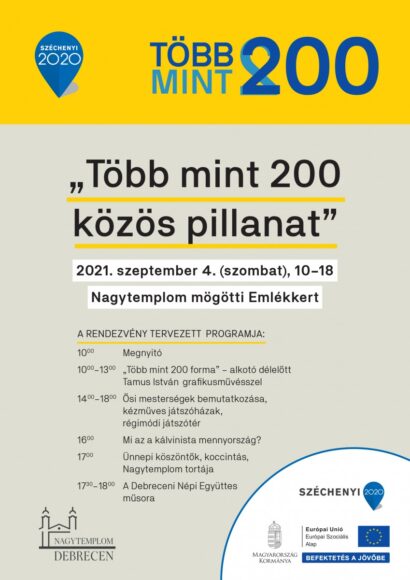 From 4 pm, delicious snacks come to the fore: the recipe for the "Calvinist heaven" sweets from Debrecen is shown by the Barabás Restaurant and offered to guests for tasting. From 5 pm, Deputy Mayor Dr. István Puskás and Pastor András Beszterczey will greet the participants on the occasion of the launch of the "More than 200" program series.
after the festive toast, guests can enjoy the 200-slice "Great Church Cake" made for the anniversary.
The musicians and dancers of the Debrecen Folk Ensemble provide a good atmosphere and foothold.
Admission to the event is free of charge, the organizers welcome all those interested to the Memorial Garden on Saturday.
debreceninap.hu
Photo: illustration